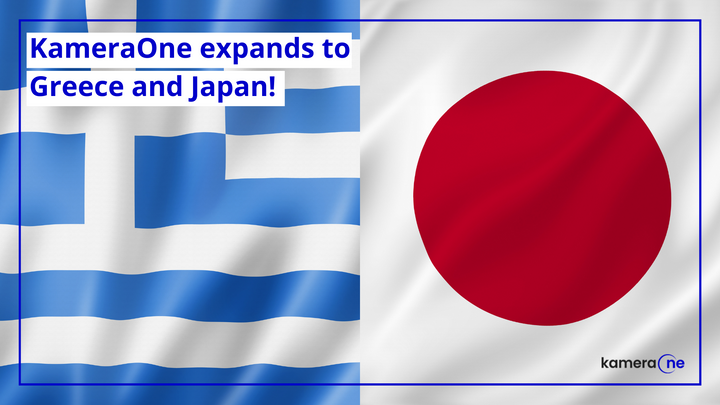 Staying on top of the engagement game is paramount to any player in the media industry, and here at KameraOne, we're thrilled to announce two exciting news as we just extended our reach to new audiences in a way that changes the way both our content and distribution partners can engage with global audiences. Say hello to our new territories : Greece & Japan!
KameraOne goes to Greece
We have just taken our inaugural step into the Greek market by making our first product "Short Cuts" available for Greek audiences through several syndication partnerships. It's a testament to our commitment to delivering engaging videos to global audiences and we're thrilled to witness the impact of "Short Cuts" as it weaves its way among Greek consumers.
This expansion means more than just expanding territories; it's about fostering engagement with new audiences in a way that opens opportunities for our local partners as well as global ones. Join forces with KameraOne and seize the chance to expand your content reach while tapping into a new realm of engagement.
KameraOne in Japan
Japan, a land where tradition meets innovation, beckons content providers to immerse their viewers in authentic, relevant and engaging video content to stay on top of the digital competition for views and attention. We're excited to extend our reach to Japan, opening doors to new engagement possibilities for our partners. Japan offers a wide array of opportunities due to the engagement of the viewers and their constant interest in consuming news stories as well as entertainment content (Digital Business Lab, 2022).
As KameraOne sets foot in Japan, we invite you to embark on this new journey with us and expand your content potential. Collaborate with us to bring the allure of your content to Japanese screens while tapping into engagement possibilities.
Partnering with KameraOne: What's in it for you?
Expanding our reach to Greece and Japan, starting with our Short Cuts isn't just about reaching new shores – it's about forging partnerships that bring visions to life and opening new opportunities for them. As a publisher or content partner, this is your invitation to join us in an exciting venture. Together, we'll amplify the magic of Greek engagement, celebrate the allure of Japanese viewership, and turn content into supercharged engagement that transcends geographical limits.
Whether you're an established publisher seeking to expand your content's reach or a content partner eager to find engage with new audiences, KameraOne offers you a platform for both objectives. Our recent expansion brings with it fresh possibilities, and a chance to upgrade your in the world of the digital media landscape.
With over 1 billion consumers, audiences are engaged in the DACH region, Spain, France, Benelux, Nordics, USA, Canada, Brazil, Mexico, UK, and now in Greece and Japan. What are you waiting for? Contact us today!